Quality Living Styles
" O, wind, if winter comes, can spring be far behind?"
Percy Bysshe Shelley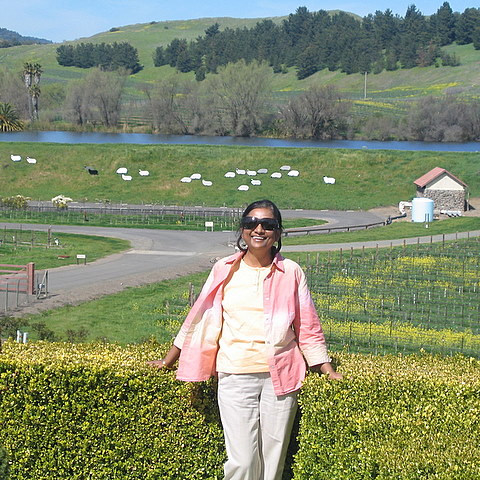 Nirmala Pather enjoying a beautiful summer day
[Photographer: Indiran Pather]
Use the search box to access recipes or other information on this website
Welcome to Quality Living Styles, the resource center managed by Nirmala Pather where you will find suggestions for self improvement, recipes, household tips and food safety.
Quality Living Styles has introduced a new segment, Recipe Net, that features the recipes of everyday cooks around the globe. The sharing of recipes as well as a brief background about the cooks, & their techniques makes it seem that you are cooking with a friend. This has also expanded the range of recipes to cater for the culinary tastes of all. Many of the cooks explain their expertise at cooking meat dishes as well.
Laugh with us as well when you read some of the humor related food stories in the Recipe Net Collection
Cooking is a great interest of mine. When I eat at restaurants, curiosity gets the better of me and before I know it, I am figuring out what ingredients were used in the dish. I am fortunate that I am often successful at imitating the real thing. Over the years, I have received so many compliments about my cooking, suggestions to open a restaurant and write a recipe book, that I have decided to make my recipes available to those who would like to venture into vegetarian cooking. I hope to compile recipe books in the near future.
My skills developed over years of practice and the influence of many wonderful cooks amongst friends and my own family, the most notable being, my mother, mother-in-law, sisters, sisters-in-law and husband, who was more skilled at cooking than I used to be. Their expertise significantly contributed to my cooking ability.
The navigation links on the left, right, and bottom will transport you to explore subjects that may inspire and instruct you to use practical and simple means to achieve a better quality of life and contentment. As you peruse the information, take from it what you will and apply it to your own situation. This video clip narrated by Carl Sagan can literally"bring you down to earth," when facing opposition and struggles with others. Please check this video, Pale Blue Dot.
Navigate these convenient links for easy access to the next destination.
---